Sequoia High School
Class of 1967
Childhood photos
Hoover School 7th Grade
Top Row - ??; Dave Gow; Dave Goebel; ??; Mike Campbell; ??
Third Row - Mike Barrett; ??; ??; ??; Kathy Maybury; ??; ??
Second Row - ??; ??; Corky Sorrick; ??; Renee Jones; Curtis ?
First Row - Mrs. Kennedy; Ilona Peckman; ??; ??; ??; Lamar Marutani; Georgene Newman; David ?; Miss Vanilla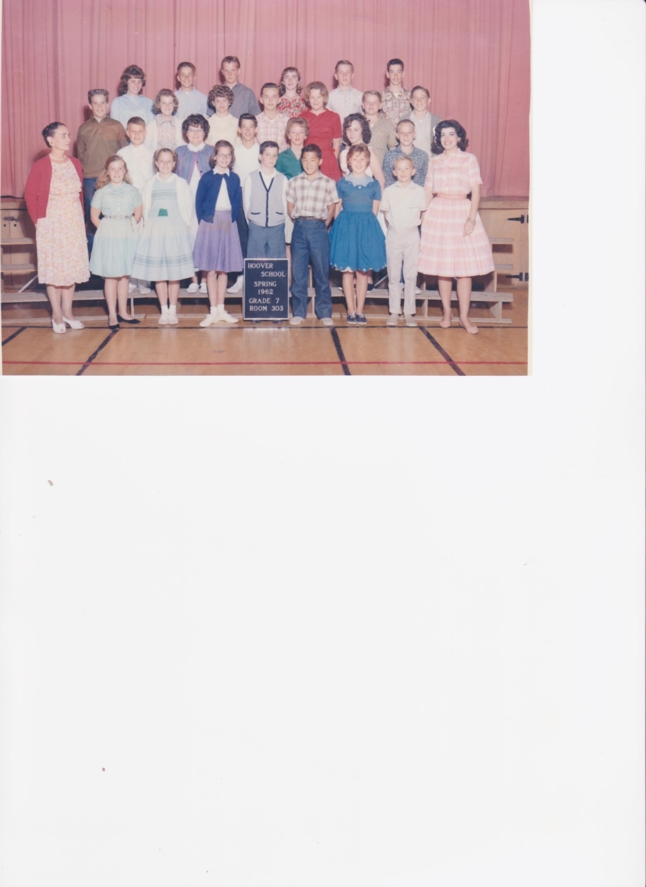 Roosevelt School 6th grade from Bob Borton
Top row-Tommy LIn, Kathie Jean Safholm, Stan Puchta,, Michael Di Gino, Nancy Mayo, Steve?
Second row - ??, Chuck Moerk , ??, ??, ??, ??, Bob Borton
Third row Steven Robert Andersen, Dave Doran. Walt Dorsey, Barbara Heidenreich, ?? Robin Miller, Peter Hellerich ,
Bottom row ??,, Katy Parsons

Roosevelt School Grade 3 from Bob Borton
Top Row: Chuck Thorp, Ed Dunn, Jackie Solomon,
Second Row: ??, Jim Oliver, ??,Mike Doolan, ??, ??, Bob Borton,
Third Row: Jim Portman, ??,??,??,??,??,??, Ray Grove
Fourth Row: Chuck Moerk,??,??,??, Dave Eckles, Terri Martinez

Roosevelt School Grade four from Bob Borton
Top Row: ??,??, Robin Miller,??,??, Jim Portman
Second Row: Chuck Thorp, ??, Jim Oliver, ??,??,??, Allen Earlier, Ray Grove
Third Row: ??,??,??,??,??,??, Phyllis Baker,
Fourth Row:

??,??,??,Erik Kruger,??,Terry Martinez,??. ??, Ed Dunn
Bottom Row: Dave Eckles,



Top row: Gregory Myall, Alberta Stuart, Russell Seufert, Penny George, Arthur Boskous, ???
Second Row: ??, Keith Lindgren, ??, Jim Kalteran, Pam Webber, ?? ??,
Third Row: Jaqueline Toorenaar?, ?, Missy Myall, Pat???, Karen Ziganto, Patricia Southward, ?
Fourth Row Curtis Brown, ?, ?, Ms. Elsie, Judy Jarvie, ? far right Mark Mitchell
Bottom Row: Chuck ,?, Paul Sanfilipo ??, ??,, Mary Miles?, Ralph Farquerson
Thomas Edison School Grade 5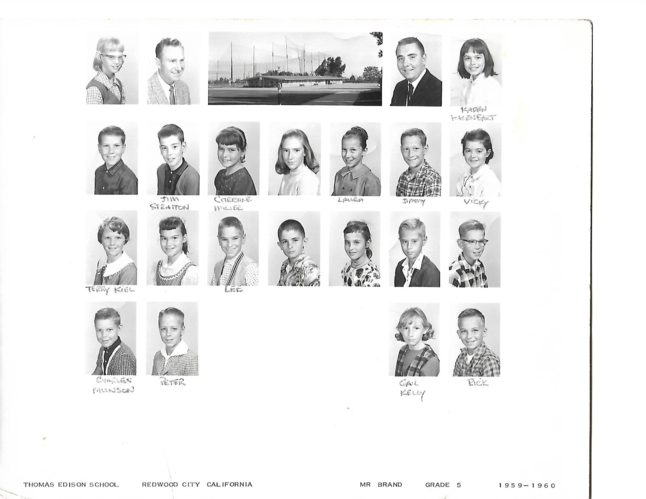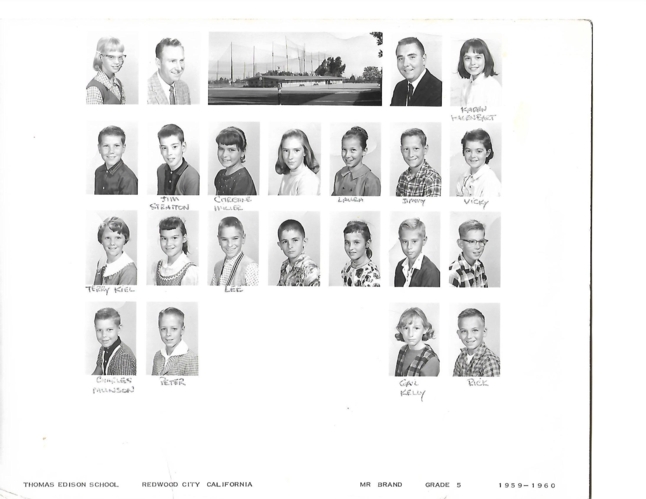 Second Row: ??, Jim Stratton, ??, ??,??, Jim Oliver,
≠
Lincoln School, Mrs. Elsie, Kindergarten
First Row (bottom)Patty Mcdonald, ??, Carol Franson??, 5th from left Carol Nobs, Karen Ziganto?? Janet Palmer, Pam Veregge, Susan Nix, Ann Corrazzini, Vicky Hammer
Second row, first person from left is Dave Collins, 4th is Dick Cullen, Marty Graul, Andy Elliott. Gary Hoffman, Jim Silva, Dave Dixon, Gary Hoffman, Lawrence Harris.
Third (top) row, Richard Mangini, Mark Mitchell, Marshall Gluskin.?, ?, Louis Barross, Arnold Gallo
McKinley, Mr. Williams 8th grade (from Gerry (Wright) Young


From Janet Gill, Roosevelt School Grade 2 Mrs. Bettinger

From Janet Gill Goodwin School 1st Grade Mrs. Swan
Top Row: Third from right: Phil Terry, Mary Jo Glass ?
Middle Row: Third from left: Linda Conona
Bottom Row: Far Left: Janet Gill, Emily Honda, third from right, Judy Namba
Mr. Grubb's 5th Grade class Lincoln School (from George Pepper)
Back Row: Mr. Grub, Sherril Shell, Carol Patterson, Ralph Farquerson, Julie Van ells, Debbie Williams, Pam Webber, Sandy Hill
3rd Row: Carol Franson, Lawrence Williams, ??, Gerry Wright, Theresa Batkin, Don Franco, David Bielenberg
2nd Row: Margot Hoffman Janet Palmer, Carrol Moran, Sue Taylor, Sandra Zambelli, Gretchen Knittle, Alberta Stuart, Carol Nobs
1st Row: Arnold Gallo, Marshall Gluskin, Greg Cochran , George Pepper, Jeff Miller Chuck Barsotti
---
Row 3: Mrs. Stoskopf, ??, Arnold Gallo, Kirk Young, Jason Cromer, Jeff Miller, ??, Keith Lindgren, Alan Schwartz, George Pepper, Mark Hanson
Row 2: Curtis Brown, Ralph Farquerson, Jim Silva, Marty Graul, Denise Seifert, Sandra Zambelli, Carrol Moran, Alberta Stuart, Vicie Hammer, Jim Kalteran, Gary Hoffman, Art Bouskos
Row 1. Connie Knittle, Gretchen Knittle, Nancy Galiata, Pam Webber, Pamela Veragee, Janice Reff, Cathy ??, Sue Kastelic??, Julie Blevins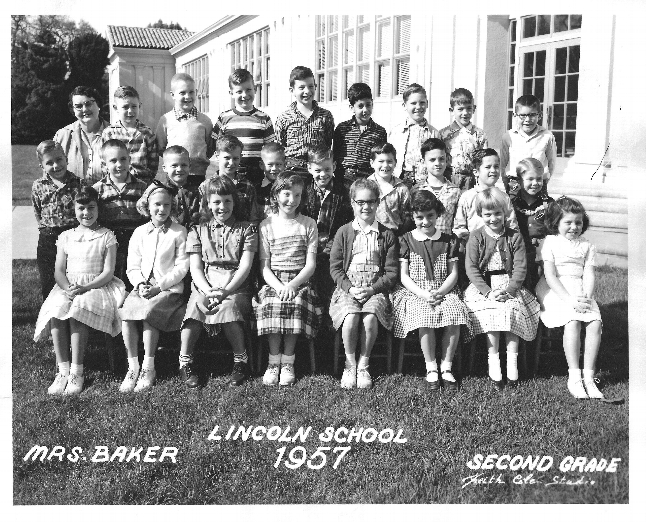 Top Row: Mrs. Baker, David Dixon, Jim Kalteren, Michael Meleyco, Ralph Farquerson, Glen Korengold, Ron Lindgren, Bob Ziegler
2nd Row: Gary Hoffman, Andy Elliott, Curtis Brown, Mark Mitchell, David Bielenberg, Alan Schwartz, Dario Pino, George Pepper, Keith Lindgren
Front Row Carol Nobs, Mary Miles, Roberta ?, Julie Blevins, ??, Marilyn Schabot, Janet Palmer, Vickie Hammer
Goodwin School Kindergarten Miss Rice - Help us name these cuties!
First row: (fourth from left) Nancy Mayo, Phil Castle
Second row: (fourth from left)Judith Flahery (8th from left)Janet Gill

Who do you recoginize? Help us fill in the caption.
First row: Margot Hoffman, , Georgene Newman fifth from left.
Third row: Third from left Liz Espinoza, fourth John Cardoza.
Firth row: Fifth from left Bill Koeper.
If you have any childhood photos with your Sequoia Classmates please email them to Carrolm@me.com so she can put them on this page.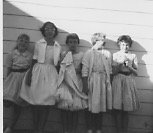 1
1th Birthday Party
Carrol Moran, Julie Van Ells, Marilyn Schabot, Pam Webber, Nancy Moran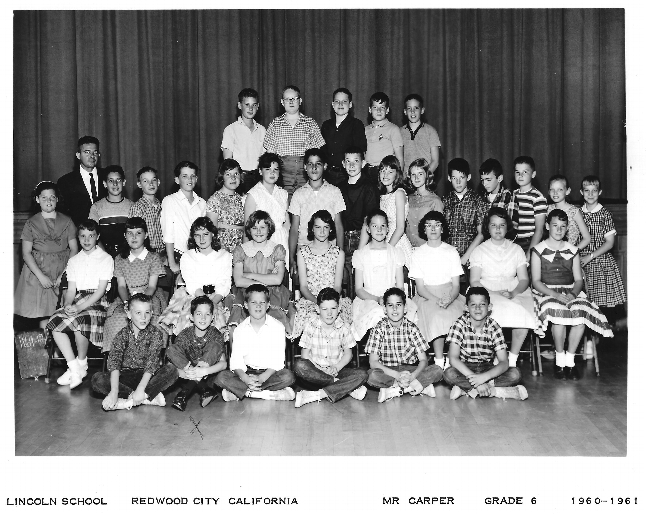 Mr. Carper's Sixth Grade Class (thank you George Pepper for the photo)
Back Row: Mark Mitchell, Phil , Ron Hiscox, Mike Avery, Andy Elliott
Third row: Vickie Hammer, Mr. Carper, Al Manning, Maty Graul, Sandy Hill, Ruth Erickson, Janice Ruff, Ralph Gunderson, Ralph Farquerson, Kitty Fairclough, Pam Veregee, Leif Riedout, Jim Silva, Fred Stump, Jaqueline Toorenar, Janet Palmer
Second row: Carrol Moran, Gretchen Knittle, Julie Blevins, Barbara Bruneau, Carol Franson, Sheryl Shell, Julie Van Ells, Gerry Wright, Sandra Zambelli
First Row: Jim Moran, George Pepper, Curtis Brown, Lawrence Williams, Arnold Gallo, Lee Remmick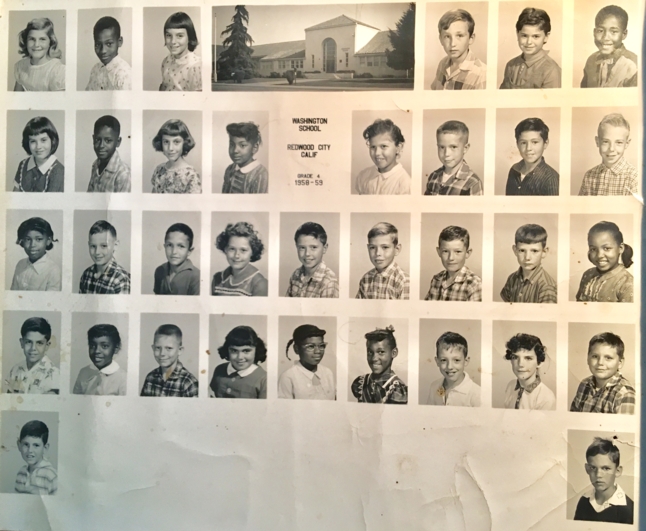 Washington School, 4th Grade class .
First row: Judy Parker , Charlie Johnson, Karen Bernard, Mark Meltzer,
Second row: ??, Ted Grant, Barbara Granara, Dolores Hollimon, Donna Flournoy ???
Third row Dolores Hollimon?, ??, far right Carol Watkins
4th row:Ron Barbieri, Beverly Goodspeed , Liz Espinoza, Micky Richmond, Dorothy Edwards?,Richard Metz, Bonnie Laboa, Oly Lyssand?
Lower left corner: Bob Ferro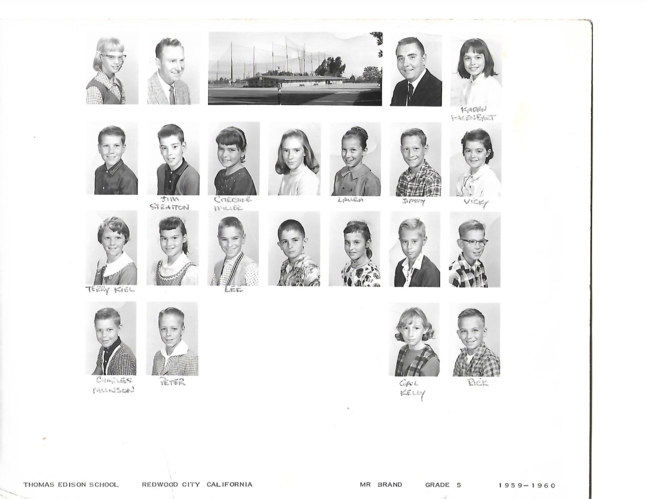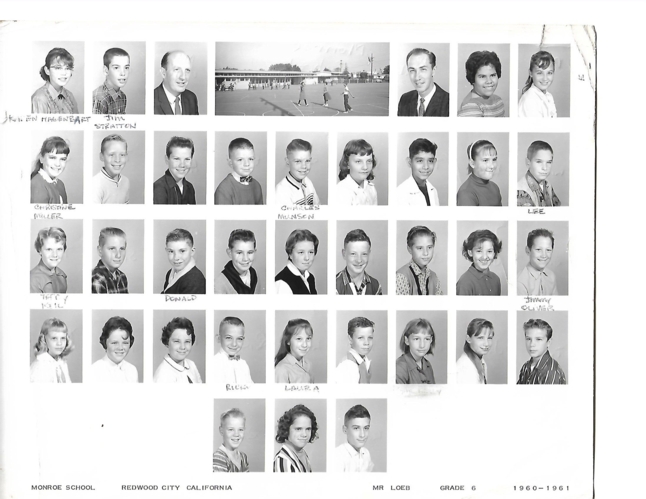 2nd row: Catherine Miller, Mark Flager?, Alan Osborne, Bill Buchann, Charles Munson, ??, ??, ??, Lee ?
3rd row: Terry Kehl,
4th row: ??, Millie Kelly,